We will be focusing on our fantasy premier league team to help you with some statistics that can upgrade your team in double gameweek 22 of FPL 2021-22 along with the tips 
These players have already proven their worth in the previous weeks and could help your FPL team elevate this season.
Here is our first fantasy dream team for game week 22 of the FPL 2021-22
Fantasy Premier League FPL 2021-22 Double Gameweek 22: Tips, Transfers And Team Selection
YOU CAN JOIN US – FPL League Code: 5pbq3g
Goal-keeper
Robert Sánchez ( Brighton – £4.6m) is a fantastic goalkeeper with 53 saves in the tournament so far along with a double gameweek with Crystal Palace & Chelsea which can improve his contributions.
Defenders
Trent Alexander-Arnold ( Liverpool – £8.4m) has the ability to provide decent contributions with the attack and defense which can help him make his return after Illness against Brentford this week.
João Cancelo ( Manchester City – £7.0m) can keep his side in strong contention as they are at the top of the table ready to play Chelsea which will be a challenge they will look forward to in this contest. 
Emerson Royal ( Tottenham – £5.0m) will be coming here after their performance in the Carabao Cup which can play a huge booster which can play an important role in their double game week against Arsenal & Leicester. 
Midfielders
Diogo Jota ( Liverpool – £8.3m) will play a central role in the Liverpool attack which can allow him to provide some important contributions that can provide him 10 goals and 2 assists which can increase in the upcoming matches.
Mason Mount ( Chelsea – £7.7m) will be playing against Manchester City along with Brighton in the recent double game week which should increase his contributions in this game week.
Lucas Moura ( Tottenham – £6.5m) holds brilliant attacking potential with a recent improvement in his form that can keep him consistent in the upcoming fixtures that can play a vital role in his matches this week.
James Maddison ( Leicester City – £6.9m) has provided 5 goals and 5 assists with the ability to work as a playmaker with his matches against Burnely & Tottenham that can work in his favour.
Jarrod Bowen ( West Ham United – £6.7m) will be boosting with confidence after providing 2 important goals against Norwich that can be channeled into his match against Leeds this week.
Forwards
Michail Antonio ( West Ham United – £7.7m) looks to be regaining his form that was not seen in the last match but can make his way through to an improved performance in the upcoming matches
Emmanuel Dennis ( Watford – £6.1m) will be facing Newcastle & Burnley in their upcoming gameweek which can allow him to shrug off setbacks to retain his goal-scoring form.
Substitutes
Vicente Guaita ( Crystal Palace – £4.6m) will be playing against Brighton who have a strong attack that can conceal his opportunities. 
Joshua King ( Watford- £4.6m) is a reliable attacker who can make his presence known that makes him our first substitute in this match.
Kieran Tierney ( Arsenal – £4.8m) has scored 1 goal and 3 assists that can be tested to the limit against Tottenham this week. 
Tino Livramento ( Southampton – £4.3m) has picked a Knee Injury with a 50% chance of appearing that can help him rest against Wolves.
Captain And Vice-Captain
James Maddison is our captain because of his improving form and attacking skills.
Mason Mount will be our vice-captain because of his ability to perform well with his goal-scoring skills.
Fantasy Premier League Team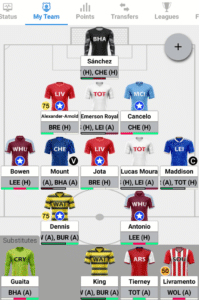 Sanchez (GK), Emerson Royal, Alexander-Arnold, Cancelo, Maddison (C), Mount (VC), Moura, Bowen, Jota, Antonio, Dennis
Subs: Guaita (GK), King, Tierney, Liveramento
ALSO READ: Neymar The Perfect Chaos Netflix Documentary 2022 Release Date, Where And How To Watch, Cast, Story