FPL managers are still looking for the perfect transfers to gain as much as many points as they can and we are here to help you with your team in gameweek 3 of FPL 2022/23 along with the tips and team selection
Fantasy Premier League has always worked as an interesting way of allowing fans to follow up with a season through detailed information on their development and potential.
Here is our fantasy dream team for gameweek 3 of the FPL 2022-23.
FPL 2022/23 Gameweek 3 Team Selection, Best Tips, Squad Captain Picks, Predictions And Transfers
YOU CAN JOIN US – FPL League Code: 8mbuug
Goal-keeper
Danny Ward ( Leicester – £4.0m) is yet to find his first clean sheet even after a fantastic performance in front of his goal which could see him push harder in their match against Southampton.
Defenders
Neco Williams ( Nottingham Forest – £4.0m) was able to showcase fantastic determination in attack and defense in their first match and could see him maintain a positive attitude in his match this week.
Joao Cancelo ( Manchester City – £7.0m) has managed to provide 2 clean sheets and 1 assist in the last 2 matches which could lead to a strong push to his confidence which can be channeled well against Newcastle United.
Reece James ( Chelsea – £6.0m) continued with back-to-back yellow cards in order to help the defensive side of his game and was fuming after his goal in the last match against Spurs which could allow him to maintain consistency.
Nathan Patterson ( Everton- £4.0 m) has made recent appearances in the last 2 matches and has been of brilliant tactical adjustments for his team which could allow him to make good use of his improved game time.
Midfielders
Mohamed Salah ( Liverpool – £13m) was not at his best in the last match but has always taken responsibility to find attacking chances that could result in a goal or an assist against rivals Manchester United.
Gabriel Martinelli ( Arsenal – £6.2m) is turning out to be a crucial attacking force for Arteta's side with 2 goals in the last 2 matches which makes him an important contributor for this game week.
Kevin de Bruyne  ( Manchester City – £12.1m) is a must-have player in the team as he is one of the fixed players in the squad that can produce heavy counter-attacking chances which has earned him 1 goal and 2 assists.
Forwards
Gabriel Jesus ( Arsenal – £8.0m) did not have the best start to his season but was quick to add 2 goals in his last match which proved important for a fantastic performance by the squad.
Erling Haaland ( Manchester City – £11.6m) managed to create just 2 passes in the last match and one of them was an assist which should keep him motivated to find the net as our prime choice for this encounter.
Kieffer Moore ( Bournemouth  – £5.5m) scored the much-needed goal in the first match of the season and was looking to build up towards attacking responsibilities against Manchester City which highlights his ability to perform well against tough oppositions.
Substitutes
Illan Meslier ( Leeds – £4.5m) could be a crucial player but will be on the bench against Chelsea this week.
Sven Botman ( Newcastle United – £4.5m) will be our first substitute as he was an effective performer in his first match but was rested in the last game.
Miguel Almiron ( Newcastle United  – £5.0m) is getting a good chunk of the game time but Manchester City could be a tough ask in terms of adding contributions.
Andreas Pereira ( Fulham – £4.5m) is not a 100% and could be rested for the game against Brentford this game week.
Captain And Vice-Captain
Erling Haaland is our captain because of his ability to produce attacking chances with limited opportunities.
Kevin de Bruyne will be our vice-captain because of his current form which should see him to maintain his consistent attacking contributions.
Fantasy Premier League Team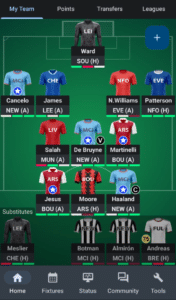 Ward (GK), James, Williams, Cancelo, Patterson, Salah, Martinelli, De Bruyne (VC), Jesus, Haaland (C), Moore
Subs: Meslier (GK), Botman, Almiron, Andreas
Auto Join FPL: https://fantasy.premierleague.com/leagues/auto-join/8mbuug
ALSO READ: AIFF needs to take some measures for suspension to be removed