Shrenik Shah is committed to touching millions of lives through his talk shows with him illustrating the outcomes thereof in his 25th year
Having counselled 30000+ patients, motivated 10000+ youngsters/students/professionals worldwide to date and acquainted with 500+ super specialists~Oncologists, Shrenik Shah has spearheaded the recovery of cancer patients and winners over the years.
Shrenik Shah Talks About His Unabated Work As A Global Influential Speaker
Mr. Shah has done 150+ live, in-person global interviews talk shows as the 1st speaker ever in premier medical colleges, universities and at India's 2nd largest Gujarat Cancer & Research Hospitals (www.gcriindia.org), international conferences and has received 1000+ commendations.
Shrenik Shah talked with us about his unstinted work, "Seeing me speaking with DistinctlyAudibleVOICE is sparkling and influencing
"Humbled to say, it's now a thrilling Life from a beautiful life even after vocal cord cancer back in 1997 in the last stage," he said.
http://facebook.com/cancerwinnershrenik
"Adding momentum relentlessly with diehard courage, confidence, dedication an commitment to the timely quality deliverables of inspiration, motivation worldwide.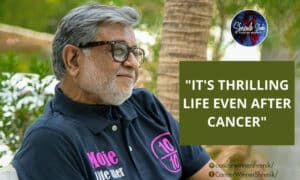 "Touched 2.5 million people at the grass-root level by anchoring live telecast by invitation from the state government of Gujarat about cancer awareness, treatments with help from Cancer super-specialists.
"Life 2.0 Innovated, invested like SIP into exceptional opportunities for 10 years in a row as a captivating global influencing speaker," Shrenik Shah elaborated as he dwelled into the work he's carried out across the world.
About Patient Leader Hero Award Winner Mr. Shrenik Shah
https://www.wegohealth.com/ShrenikShah2110
Recently received the most prestigious "Patient Leader Hero Award" from the WEGOHEALTH in the USA  out of 21000 nominations towards my advocacy activities.
Invited to speak over Ted Circles, given a kick start presentation in the USA for 2500 global attendees, interviewed by many global distinguished personalities, sponsored to the UK twice as an inspirational speaker.
Published 150 Inspirational videos in 150 days posted on Facebook, Instagram, LinkedIn, YouTube and http://www.shrenikshah2110.com 
Conceptualized, launched, anchoring, moderating & streaming Facebook live 1:1 exclusive e-Health series for the first time as a vocal cord cancer survivor.
Completed 20 episodes with 35000+ views to date by inviting super specialists for knowledge sharing with the global community to bridge the gap between patients & super-specialists for early diagnosis, timely treatments & a step forward to save the valued life of patients.
Received many global awards, spectacular presence across most social media platforms.
Recognized as Global Goodwill Ambassador, honorary member Della Leaders Club, International Institute of Influencers, the educational platform.
Signature titles of his talk shows:
A)Image Building Beyond Boundaries
B)From Disabled to Enabled
C)Going Back to work after dreadful disease
D)Bringing Back Lost Smile
E)Radiating Enthusiasm
G)Adding colors, flavors, fragrance in Life of others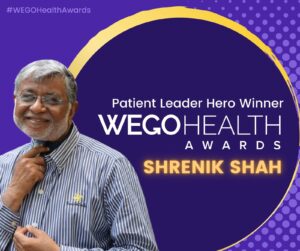 Read his biography, "SHAHENSHAH" as an e-book & paperback, including chapter 17, page 77/109 covering 30 global testimonials in the original format: https://www.amazon.com/dp/9390197031
M: ++ 91 9227205977 (https://wa.link/54h2b5)
email: shre[email protected]
https://facebook.com/shrenik.shah.355
https://www.instagram.com/cancerwinnershrenik/
https://youtube.com/channel/UCBy32u1BWPYR77zNgjBpLpg
https://www.linkedin.com/in/shrenik-shah-892519149/
https://cancerwinnershrenik.hubhopper.com/
ALSO READ: F1 United States Grand Prix 2021 Schedule, Circuit Details, Venue, Tickets, Weather, Betting Odds, Predictions, Live Stream
Recommended: Sports Education Courses In India