The search for India's top BGMI squad has begun. The top 16 teams that advanced to the BGIS Grand Finals 2021 will compete for the title, know the schedule and points table
The title of iQOO BATTLEGROUNDS MOBILE INDIA 2021 over the course of four days will be fought for at the final.
Greatness has been witnessed! It was the first day of the iQOO BATTLEGROUNDS MOBILE INDIA SERIES 2021 Grand Finals. We've witnessed some crazy activity, and it's going to be an evening filled with amazing BGMI moments! After today's matches, Godlike Esports is on top of the rankings after day one. Here you can find the overall standings as well as a thorough breakdown of the matches.
BGIS Grand Finals Day 1 2021 Results, Points Table, Standings
MATCH 1: On the Erangel map, the first match was played. TSM, or Team SoloMid, took the first win of the Grand Finals. In the match, the team has a total of 8 finishes. Godlike Esports had a dominant showing in the match, finishing in second place with 15 kills.
MATCH 2- On the Miramar map, the second match of the first day was played. With 6 finish points, Team Hyderabad Hydras won the Chicken Dinner. Reckoning Esports made a strong comeback to take second place with 10 finish points. With 6 finish points, Enigma Gaming has managed to maintain third place.
MATCH 3- On the first day of the Battlegrounds Mobile India Series Grand Finals, the third match was held on the map of Erangel. TSM won the Chicken Dinner for the second time, this time with 14 finish points. With 8 finish points, Revenant Esports managed to maintain second place. GodLike Esports came in third place with 4 finish points.
MATCH 4- The fourth match took place on Sanhok's greenery map. With 13 finish points, Team GodLike Esports finally won the Chicken Dinner. With no finish points, Team Skylightz staged a comeback and took second place. With three finish points, Team XO came in third.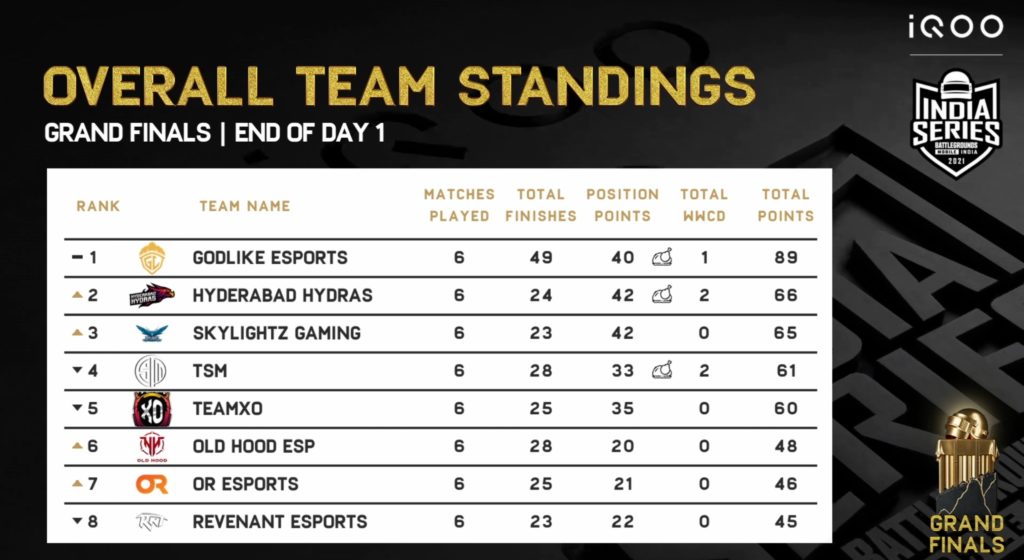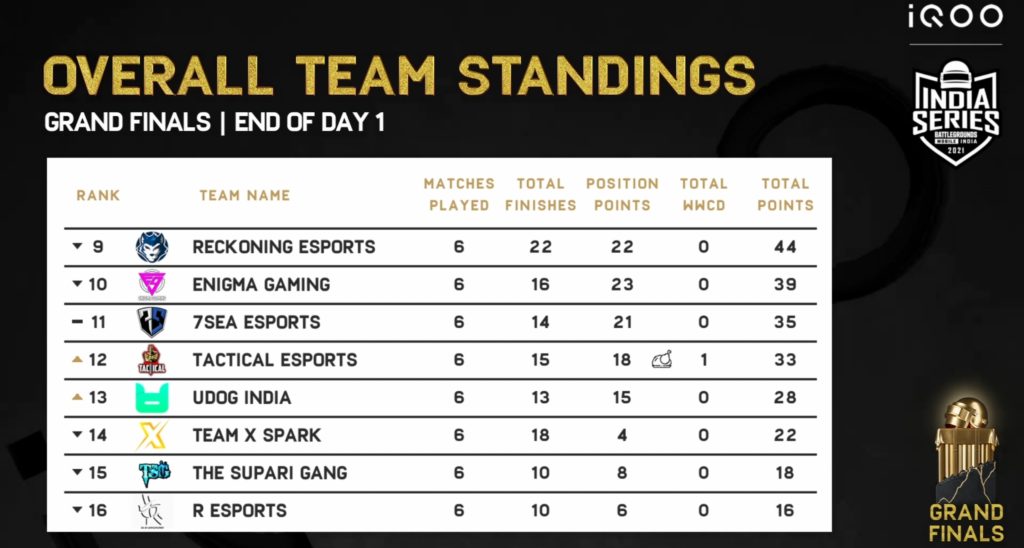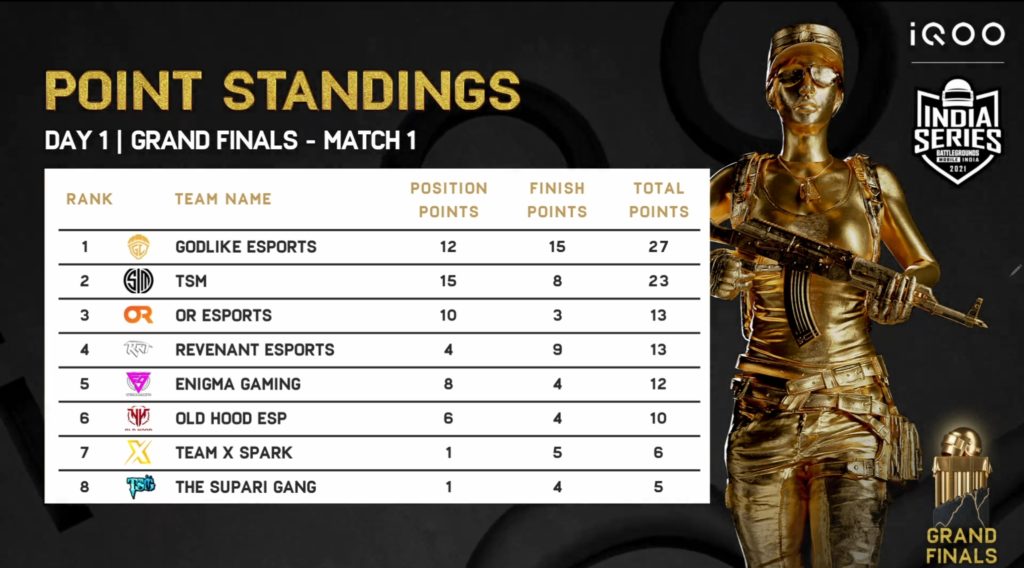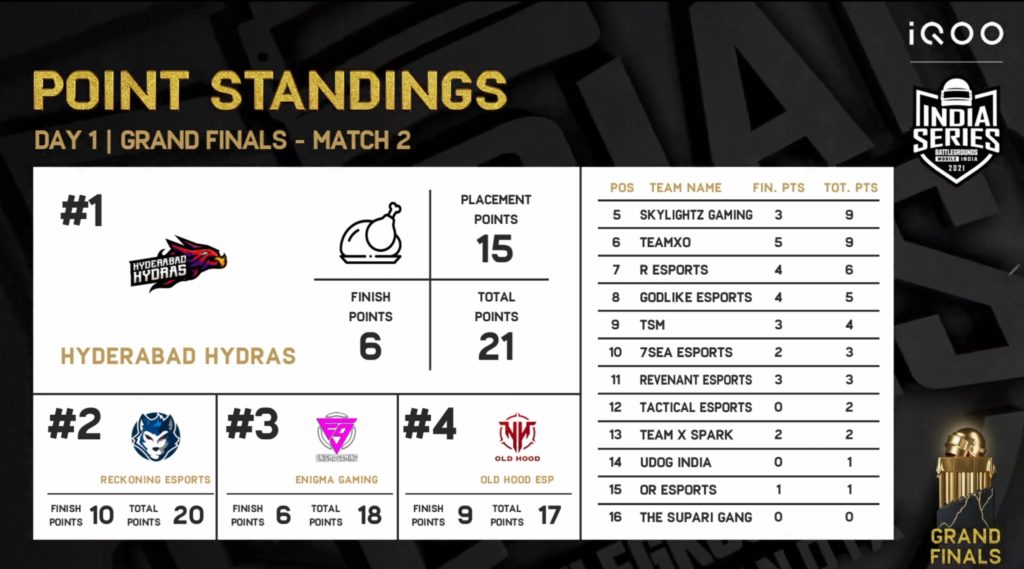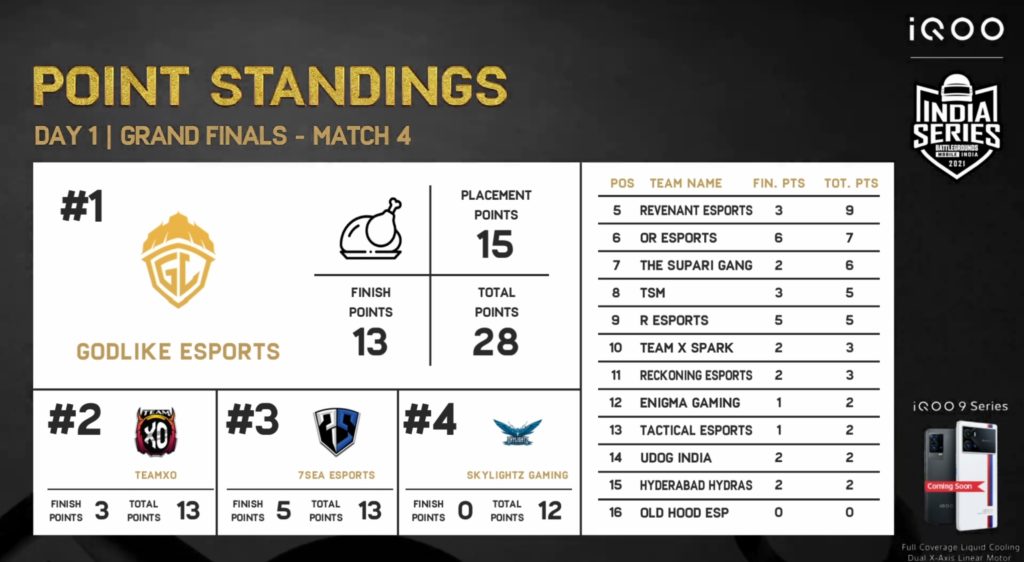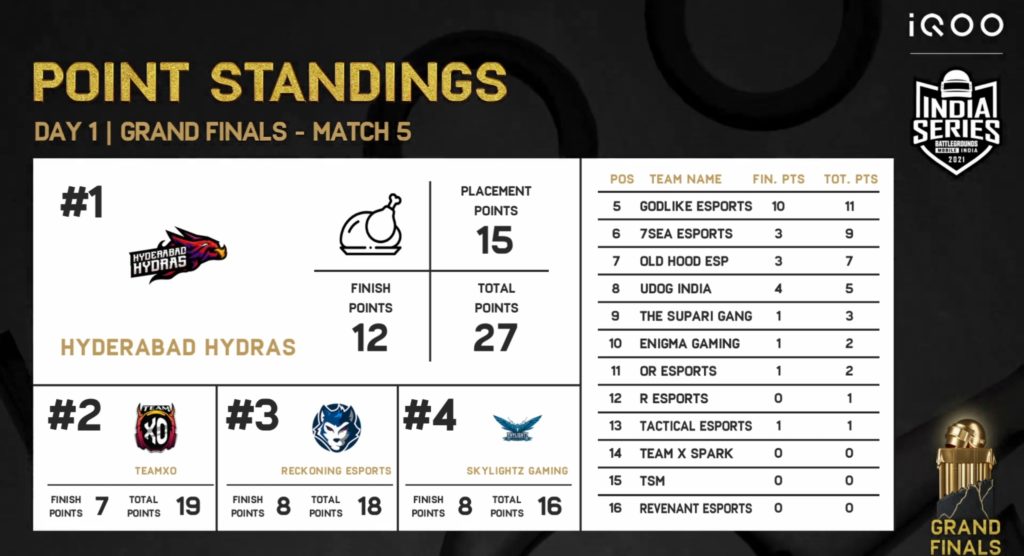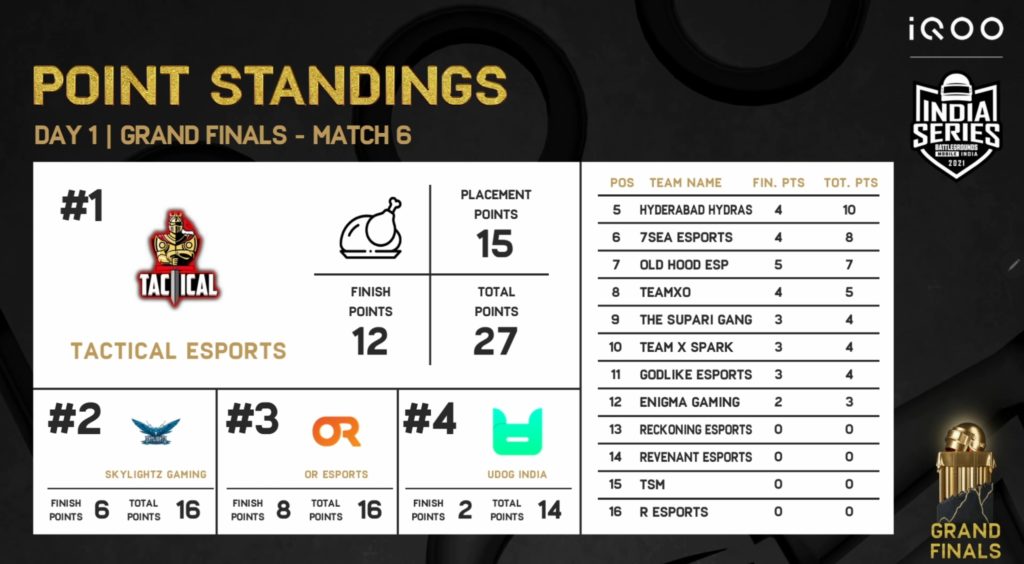 Qualified Teams For BGIS Grand Finals BGMI Tournament
1. Team XO
2. Skylightz Gaming
3. Godlike Esports
4. OREsports
5. TSM
6. Hyderabad Hydras
7. Enigma Gaming
8. Team XSpark
9. UDog India
10. Reckoning Esports
11. R Esports
12. The Supari Gang
13. Revenant Esports
14. Old Hood Esports
15. Tactical Esports
16. 7Sea Esports
Where To Watch BGIS Day 2 Matches: Schedule, Date, Live Streaming And Telecast
Today is the second day of the BGIS Finals, and all 16 teams will continue their struggle for glory. From 5:45 PM onwards on 14th January, 2021. The the matches will be live-streamed on Battlegrounds Mobile India's official YouTube channel.
ALSO READ: Indian Premier League: IPL 2022 Full Teams Coaches List And Salary
Recommended: The Sports Fan App