The Wordle app has taken over the world and taken over the internet, igniting social media debate and spawning a slew of cynical clones. know how to play and the answers
You may not have heard of Wordle, but chances are you've seen it, particularly if you spend any time on Twitter. But the question is What is Wordle? 
What Is The Wordle App And Meaning
Wordle is an online word game that you can play every day. It's simple, enjoyable, and, like a crossword puzzle, can only be completed once per day. There's a new word of the day every 24 hours, and it's up to you to find out what it is. The rules are explained in great detail on the website:
Players have to guess the word in 6 attempts. The game shows how close you are to the word in the form of coloured tiles. 
Wordle gives players six chances to predict a five-letter word that is chosen at random. If you put the proper letter in the right location, it becomes green, as illustrated above. When a proper letter is typed in the wrong place, it turns yellow. A letter that isn't part of the word in any way appears grey.
How To Play Wordle Game And Download Link For The App
To play Wordle, you need only go to the Wordle website: Here's a direct link to the game.
The game's mechanics are immediately apparent: It's a procedure of removing letters from the English alphabet while staying within the confines of five-letter words and letter arrangement.
Furthermore, you only have six chances to correctly guess the five-letter word of the day. This is where those social media posts come back into play: They show how a specific Wordle player solved the puzzle on that given day.
You can enter a total of six words, which means you can use five burner words to learn about the letters and their positions. Then you just have one chance to use those hints. Alternatively, you can aim for speed by guessing the word of the day in three, two, or even one go.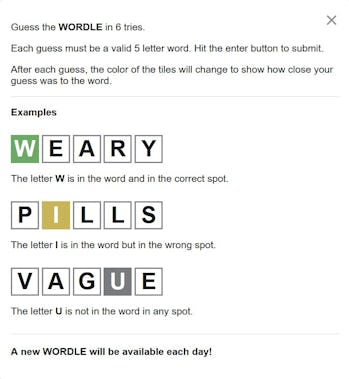 Who Is The Wordle App Creator?
Josh Wardle, who created the game for his puzzle-loving partner, has had an unexpected grassroots success. On their sofa, the couple played it for entertainment, and additional users gradually joined them.
Wordle Game Answers
The easy mode answers can be found here while for the hard mode answers list you can visit this site.
Starter Words For Daily Answers
REAIS
SLATE
AEGIS
LARES
RALES
TARES
NARES
ARLES
SIREN
RAISE
QUERY
RENTS
SNARE
EARNS
STOAE
SANER
CANOE
TEARS
STEAM
ADIEU
ALSO READ: Indian Premier League: IPL 2022 Full Teams Coaches List And Salary
Recommended: The Sports Fan App