The Champions Run for Unity 2021 was flagged off by Shri Vijay Goel on October 31, 2021 as a part of the National Unity Day celebrations
 Vice Chairman Gandhi Smriti and Darshan Samiti and former Union Sports Minister Shri Vijay Goel flagged off the Run For Unity 2021 from Gandhi Darshan, Rajghat on October 31, 2021. 500 runners from different parts of Delhi, Haryana, Uttar Pradesh, Sikkim, Palwal and even in their individual capacity took part in the Run for Unity 2021 commemorating the 146th Birth Anniversary of Sardar Vallabhbhai Patel which is celebrated every year as National Unity Day (Rashtriya Ekta Divas).
This programme was organized by Gandhi Smriti and Darshan Samiti and Health Fitness Trust as part of Azadi Ka Amrit Mohatsav, celebrating the 75th year of India's Independence.
Champions Run For Unity 2021 Organized As Part Of Azadi Ka Amrit Mohatsav
The ten kilometer Champions Run for Unity for which cash prizes were also awarded by Health Fitness Trust saw an overwhelming participation of runners in different age groups from six years Vaibhav Chaudhary to 71 years Vinay Juneja.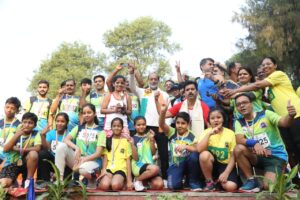 Shri Vijay Goel also awarded the teams for their excellence in sports and becoming the torch bearers of mission 'Fit India' that was launched by honourable Prime Minister of India, Shri Narendra Modi on August 29, 2019.
Addressing the runners, Shri Vijay Goel appreciated Gandhi Smriti and Darshan Samiti and Health Fitness Trust for choosing October 31, the birthday of Sardar Vallabhbhai Patel for organizing the Run For Unity. "It was Sardar Patel, who played the most vital role in integrating the princely states into one umbrella and established a sense of nationalism and patriotism in them and this festival of bringing more than 500 people will to re-affirm the inherent strength and resilience of our nation in remaining fit and dedicating our services for national cause".
Calling it a great tribute to Sardar Patel on the 75th year of India's Independence, Shri Vijay Goel said, "We are celebrating nation's togetherness".
Race Director and former Asian Marathon Champion Dr. Sunita Godara, who is the founder Director of Health Fitness Trust, thanked Gandhi Smriti and Darshan Samiti for supporting their cause of taking the message unity and national integrity to a large spectrum of the society.
Reiterating the mission of Fit India as underlined by Shri Narendra Modi, Dr. Godara said, "Our aim is to promote fitness with fun and also spreading awareness through various mediums like yoga, dance, music and thereby engage people of different age groups in creative pursuits whereby we channelize their energy for positive thinking".
The other attraction of the programme was a thematic musical presentation on Gandhiji's principles and teachings by young children from Guru Abhyas.
A thematic show on Sardar Patel by Health Fitness Trust Zumba Fitness was the other attraction that encouraged the runners.
ALSO READ: Know All About Jonathan David, His Contract, Salary, Stats, Career, FIFA 22 Rating