Maldives will be all set to lock horns against Thailand in this crucial T20 encounter. Welcome to the MLD vs TL Dream11 team prediction today and match preview.
Maldives have failed to manage a winning run as they have lost all of their last 5 matches which could allow them to make their come back to cricket ever since their last tournament in 2021.
Thailand on the other hand played their last series in 2020 and managed to win 2 of their last 5 matches in the tournament which can be channeled with a stronger momentum in this contest.
Probable Winner, Betting Tips, and Match Prediction
Thailand should win this match by a very close margin.
Pitch Report and Toss
The pitch is balanced with assistance for both departments. The winners of the toss to bat first.
Weather
The weather forecasts a partly sunny day.
Probable Playing 11
Maldives
Mohamed-Rishwan (wk), H.Haziq Rasheed, I.Rizan, Y.Azyan Farhath, I.Ali, I.Shafeeq, U.Adam, I.Nashath, Ameel-Mauroof, Ibrahim-Hassan, J.Malinda
Thailand 
P.Suanchuai (wk), S.Takanta, C.Lianwichian, K.Namchaikul, N.Nuntarach, C.Pengkumta, S.Maliwan, K.Senamontree, S.Desungnoen, T.Buree, V.Singh
Match Details
Malaysia T20I Quadrangular Series
Match: Maldives vs Thailand 
Date and Time: 3rd June  – 08:00 am IST
Venue: UKM-YSD Cricket Oval, Bangi, Malaysia
Telecast: Fancode
MLD vs TL Dream11 Team Prediction Today, Malaysia T20I Quadrangular Series, Fantasy Cricket Picks
Wicket-Keeper
Mohamed-Rishwan (9.5 Cr) has been decent yet consistent in his previous games with a majority of his contributions that came from his skill behind the stumps which could continue to improve his performance.
Phiriyaphong Suanchua (8.5 Cr) holds brilliant batting resilience with his performance as the young wicket-keeper which can allow him to keep his team strong in this crucial match.
Batsman
Ibrahim Rizan (9.0 Cr) was able to score a brilliant 39 runs at a strike rate of 95.12 with the potential to bowl that can make its way through in the upcoming matches.
Chirapong Lianwichian (9.0 Cr) was brilliant in the last game as he scored 106 runs at a strike rate of 212 which should keep him motivated to continue with his improving form which makes him our prime choice for this encounter.
Yoosuf Azyan Farhath (8.5 Cr) has the ability to keep the scoreboard moving as he scored 27 runs at a strike rate of 103.85 added with his skills on the field which could lead to a strong contribution.
All-rounders
Leem Shafeeq (9.5 Cr) has been consistent for the team that has earned him 108 runs along with 3 wickets in the last 2 matches which makes him a potential game-changer.
Umar Adam (9.0 Cr) scored 16 runs along with 1 wicket in the last match with greater potential that could make its way through to this fixture as he will look to make his mark in this match.
Chanchai Pengkumta (9.5 Cr) can find consistent bowling and batting chances that earned him crucial runs and wickets in the last tournament which makes him our prime choice for this encounter.
Bowlers
Ameel-Mauroof (9.0 Cr) was brilliant in the last 2 matches with a total of 4 wickets at an economy rate which can continue to improve his point in this match.
Kamron Senamontree (8.5 Cr) picked 4 wickets at an economy rate of 2.09 in his last match that highlights his understanding of the pitch which can play a strong role in his development.
Sorawat Desungnoen (8.5 Cr) has a focused form with a strong mentality that can help contain the opposition to benefit his contributions with a growing form in this crucial fixture.
Dream11 Team Prediction Captain and Vice-Captain
C.Pengkumta will be our captain and C.Lianwichian will be our vice-captain because of their current form and improving potential which can lead to a better outcome.
DREAM 11 TEAM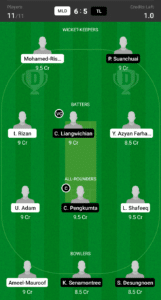 Mohamed-Rishwan, Suanchuai, Rizan, Azyan Farhath, Liangwichian (VC), Adam, Shafeeq, Pengkumta (C), Ameel-Mauroof, Sebanibtree, Desungnoen 
Dream11 Team Disclaimer
The veracity of our selections and team is based on earnest analysis of the league, matches, and playing 11s. We implore you to forage your team by your own accord with these facets helping spur your decision making.
ALSO WATCH: David Warner Hit By Bail In The Balls During SL vs AUS 1st Test Match 2022, Video Goes Viral