We will be focusing on our fantasy premier league team to help you with some statistics that can upgrade your team in double gameweek 26 of FPL 2021-22 along with the tips 
These players have already proven their worth in the previous weeks and could help your FPL team elevate this season.
Here is our first fantasy dream team for game week 26 of the FPL 2021-22
Fantasy Premier League FPL 2021-22 Double Gameweek 26: Tips, Transfers And Team Selection
YOU CAN JOIN US – FPL League Code: 5pbq3g
Goal-keeper
Vicente Guaita ( Crystal Palace – £4.6m) has managed to regain focus but his skills will be tested to the limit as he will be up against European Champions Chelsea which should prepare him well for his match against Watford.
Defenders
Trent Alexander-Arnold ( Liverpool – £8.5m) has been a disciplined defender with fantastic attacking skills that can build his form as an important right wing-back that can continue to grow his overall performance.
Kieran Tierney ( Arsenal – £5.1m) has scored 1 goal and 1 assist at this stage of the tournament and holds great overall potential to bounce back with a similar rigour that can board well for his performance this game week.
Ben White ( Arsenal – £4.5m) will be up against Brentford and Wolves which can result into a strong defensive performance with greater potential to continue with the resilient contributions that could earn them 2 clean sheets.
Emerson Royal ( Tottenham – £4.9m) was brilliant with his performance in the FA Cup tie which can build up his confidence to prepare a stronger performance in the upcoming fixtures as they will be up against Manchester City and Burnley.
Midfielders
Diogo Jota ( Liverpool – £8.5m) was brilliant at maintaining the attacking contributions in the absence of Salah and could now develop drastically with his presence which can work well for this crucial second half of the tournament.
Kevin de Bruyne ( Manchester City – £12.1m) has managed to perform well as a fantastic playmaker with crisp passing and solid shooting resulting in important goals which can keep him focused on their match against Tottenham.
Mohamed Salah ( Liverpool – £13m) will make his full-time return to the premier league after working as a threat as a substitute in the last match with greater confidence as they will come here after playing their UCL match that makes him our prime choice.
Lucas Moura ( Tottenham – £6.4m) can be a threat in attack as he currently looks like an important attacker and could fill in the role of Dele Alli as an attacking midifielder which can result into better contributions.
Forwards
Joshua King ( Watford – £5.9m) scored his last goal in gameweek 12 with his last assist against West Ham in game week 20 which is high time for him to make his mark as they have relatively strong fixtures this week. 
Emmanuel Dennis ( Watford – £6.1m) has scored 8 goals along with 6 assists and understands the importance of his role in the forward that can build up his performance in the upcoming matches.
Substitutes
Robert Sánchez ( Brighton – £4.4m) will be up against Burnley this week with a single game week that could reduce crucial points.
João Cancelo ( Manchester City – £7.2m) is one of the best defenders at City which could allow him to rest for this game as seen in the previous game week.
Armando Broja ( Southampton – £5.3m) can score goals and will likely make his presence known against inform Everton this week.
Alexis Mac Allister ( Brighton – £5.3m) has provided 4 goals along with 2 assists but lacks consistency which could be a risky move for this game week.
FPL GW 26 Triple Captain And Vice-Captain Pick
Mohamed Salah is our captain because of his fantastic fighting spirit and consistent performances.
Diogo Jota will be our vice-captain because of his improving form and goal-scoring skills.
Fantasy Premier League Team PFL Double Gameweek 26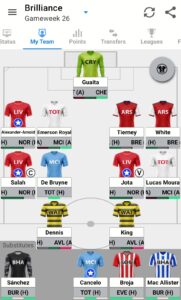 Guaita (GK), Alexander-Arnold, Emerson-Royal, Tierney, White, de Bruyne, Lucas Moura, Salah (C), Jota (VC), King, Dennis
Subs: Sanchez (GK), Cancelo, Broja, Mac Allister
ALSO READ: Wordle Today Answer 242 Feb 16, What Is The Word, Hint, Tips, Tricks And How To Play The Online Game