Dallas Mustangs will be all set to lock horns against Golden State Grizzlies in this crucial T20 encounter. Welcome to the DMU vs GHZ Dream11 team prediction today and match preview.
Dallas Mustangs will come here after winning their first match of the tournament which has seen them provide brilliant batting contributions with the potential to improve added with their bowling skills that can keep them in contention.
Golden State Grizzlies holds great potential to work as a team which will be tested to the limit against this opposition which could be their main motivation to start their campaign on a high note.
Probable Winner, Betting Tips, and Match Prediction
Dallas Mustangs should win this match by a very close margin.
Pitch Report and Toss
The pitch is helpful for batsmen. The winners of the toss to bat first.
Weather
The forecast predicts a warm sunny day.
Probable Playing 11
Dallas Mustangs
J.Tromp (wk), S.Farhan, S.Gowda, S.Malhotra, S.Asokan, H.Talat, A.Sheikh, C.Anderson, N.Kenjige, N.Jamali, A.Haroon
Golden State Grizzlies 
K.Chandel (wk), H.Azam, S.Aslam, R.Joshi, M.Shahzad, S.Mishra, E.Adil, S.Khan, V.Vaghela, A.Deshpande, A.Singh
Match Details
Minor League T20
Match: Dallas Mustangs vs Golden State Grizzlies 
Date and Time: 4th July  – 01:00 am IST
Venue: Choice Moosa Stadium, Texas, USA
Telecast: Fancode
DMU vs GHZ Dream11 Team Prediction Today, Minor League T20, Fantasy Cricket Picks
Wicket-Keeper
Karan Chandel (9.0 Cr) was able to create all of his contributions with his performance on the pitch that should allow him to improve his performance drastically with his batting potential.
Batsman
Sahibzada Farhan (9.5 Cr) has been an important performer in the top order that earned him 25 runs at a strike rate of 131.58 which makes him our prime choice for this encounter.
Sujith Gowda (9.5 Cr) was able to score 32 runs however he was able to make his presence known on the field which can keep him motivated with every passing match.
Hammad Azam (9.0 Cr) was brilliant in the last match as he was able to score 39 runs with the potential to bowl overs that can factor in on his improving form.
All-rounders
Corey Anderson (10.5 Cr) scored 19 at a strike rate of 73.08 along with his improving bowling skills to add to his current form which makes him a crucial player.
Hussain Talat (9.0 Cr) can bring his power-hitting skills to this game as he was able to score 43 runs at a strike rate of 159.26 along with 2 wickets which makes him our prime choice for this encounter.
Muhammad Shahzad (9.0 Cr) has the potential to work hard in both innings that have resulted into important contributions which makes him a potential game-changer for this match.
Bowlers
Nosthush Kenjige (8.5 Cr) started with one wicket for each match along with his ability to maintain his overall performances in the recent games that make him a crucial contributor.
Naseer Jamali (8.5 Cr) did not get the chance to showcase his talents in the last match but should be able to bring out his best form which can continue to push his form in this contest.
Sheryar Khan (9.0 Cr) has the ability to contain the opposition with his bowling skills that should allow him to channel a similar momentum which can be witnessed in this match.
Vatsal Vaghela (8.5 Cr) was able to pick 2 wickets at an economy rate of 1 added with his skills on the pitch in his recent club match that makes him a crucial pick for this important encounter.
Dream11 Team Prediction Captain and Vice-Captain
H.Talat will be our captain and S.Farhan will be our vice-captain because of their current form as witnessed in the first match.
DREAM 11 TEAM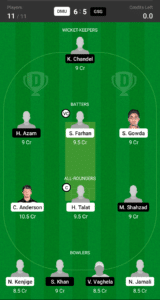 Chandel, Farhan (VC), Gowda, Azam, Anderson, Talat (C), Shahzad, Kenjige, Jamali, Khan, Vaghela
Dream11 Team Disclaimer
The veracity of our selections and team is based on earnest analysis of the league, matches, and playing 11s. We implore you to forage your team by your own accord with these facets helping spur your decision making.
ALSO READ: ENG v IND, 5th Test: Bumrah's all-round efforts make it India's day at Edgbaston (ld)